Wait …
Before you make a payment using the system below please check your email for your Anura Web Invoice. When you pay using your official Anura Web Invoice your payment is immediately applied to your account. You can also pay your invoice using credit card, debit card or directly from your bank. If you can not find your emailed invoice please contact us.
You can also login to your account on AnuraWeb.com – click here.
or continue with PayPal
Complete the information below to make your payment using PayPal.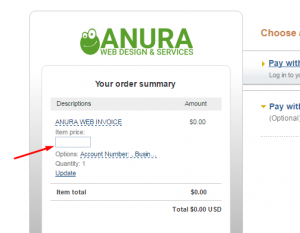 1 – Start by entering your account number in the box below. Your account number can be found on your recent invoice. Anura Web account number may not caintain actual number or maybe a combination of numbers and letters.
2 – Enter your business name
3 – Click on MAKE PAYMENT.
You will be transferred to PayPal to complete the transaction. Be sure to enter an amount to pay where it says 'ITEM PRICE'.