Linux Hosting with a 30-Day Free Trial
Our ZFS storage–based cloud web hosting platform provides the ultimate in protection against data corruption & optimum safety for your websites. A ModSecurity firewall software app will keep hackers away from your site content. The data compression technique that we use will make your websites load faster than ever & so will our website accelerator tools. You will be able to switch over to us at absolutely no cost. We'll migrate your web sites for free.
What We Offer
Here's just a taste of what's offered in our hosting packages:
Unlimited Disk Space
Unlimited Monthly Traffic
1 Hosted Domain(s)
Unlimited Subdomains
Unlimited Parked Domains
100 E-mail Accounts
5 MySQL Databases
Unlimited FTP Accounts
5 GB VPN Traffic
Genuine Cloud Architecture
ZFS Cloud Storage & Mail
Fast SSD Drives
Daily Data Backups
Dropbox Backups
24/7 Technical Support
Website Accelerators
ModSecurity
Browsable Daily Backups
Easy-to-use Control Panel
Web Hosting Control Panel
Site control rendered quick and simple
Web site management has been now made simpler. The point 'n' click Online Control Panel puts all common website administration duties at your fingertips. You can upload documents using simple drag–and–drop movements, handle all the settings of your domains and web sites from just a single location, transfer and register multiple domain names, create and control multiple mailboxes, control email marketing campaigns, create databases, get SSL Certificates to protect your customers, etcetera. Exhaustive statistics will keep you up–to–date with all visits and activities on your sites.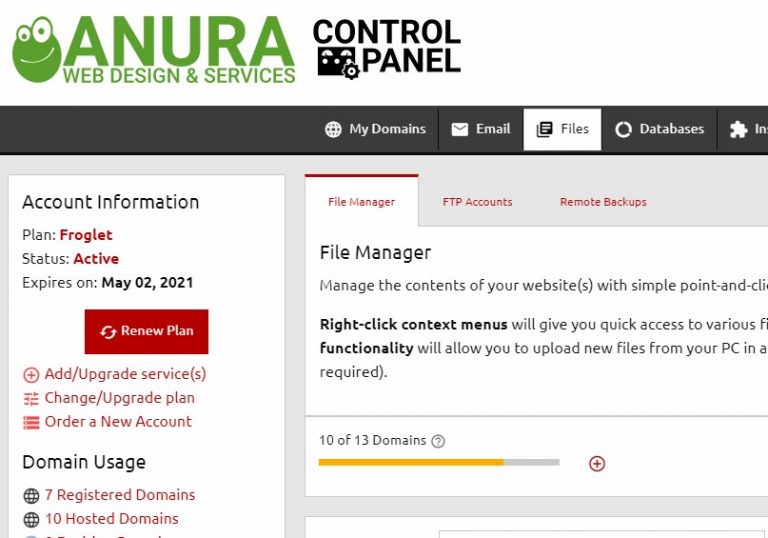 Your websites are totally backed–up with us
We back up your site content frequently, which suggests that you never risk losing your own personal files, web applications, databases, emails, etc. due to hacker attacks or unintentional deleting on your end. Also, through the File Manager which is conveniently integrated into the Online Control Panel, you will be able to make manual backups of all your website content at any moment. Just indicate and compress the file(s) that you would like to back up and our system will save it for you in the location you have picked.
A safe and secure web application firewall software
Our company offers an instant way of shielding each web app in your account, no matter whether it's newly installed or has been imported from some other web hosting company. All our hosting packages offer ModSecurity – a web app firewall program, which is enabled automatically. We have configured it to immediately impede most hacker attacks. This implies that once you host your website with us, it'll be safer than before.
Safe, anonymous web surfing
If you reside in an area with rigorous web browsing regulations but want to examine the online world as much as you can, we have a solution for you. Using any of our hosting plans, you will be able to get Virtual Private Network access and browse the Internet freely. All you have to do is set up a brand new network with the settings we provide then we'll redirect both your incoming and outgoing online traffic through one of our Virtual Private Network data centers.
Hosting packs in the United States of America, in the European Union and in Australia
Presently we have data centers in the United States of America (Steadfast in Chicago, IL), in Europe (Pulsant near London, Ficolo in Pori, Finland and Telepoint in Sofia, Bulgaria) and in Australia (Amaze in Sydney). We have carefully picked out each data center facility to ensure top–notch hosting solutions for all your sites and web apps. There aren't any extra costs – the price will remain the same no matter which datacenter facility you pick.