Want to build your own website for less than $100?  You're in luck!  Anura Web's Do-It-Yourself service is where it's at!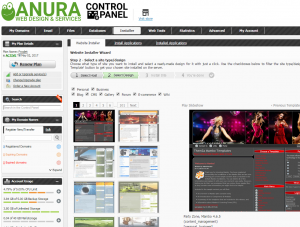 The Website Installer located within our Control Panel offers you a quick and easy way to set up a brand new website with a custom look in under 5 minutes. All it takes is just four simple steps and your new website can be online. And you can choose any of the more than 200 available website templates for your website. And once everything is ready, managing your new website will be easy – we will send you login details for the admin area and you will be able to start adding new pages. If, at any time, you need assistance – our tech engineers are available 24/7, ready to assist you.
The Website Installer is available with every cloud hosting, semi-dedicated hosting, VPS hosting and dedicated hosting package coming with the Control Panel.
An Easy-to-Use Site Installer
Publishing a site is as easy as one-two-three
Building websites can be hard – you need to possess at least some HTML and CSS knowledge. You have to know something about JavaScript and PHP as well. With our Website Installer, you don't need to possess any coding knowledge to launch a custom website. You can choose from among more than 200 templates and quickly modify the chosen template as per your needs without having to write any code.
And if you don't like the end result – head back and start again. It takes just four easy steps, and by the time you reach step 4 – you will have your new site ready.
200+ Website Templates
More than 200 website templates are available
We have developed more than 200 different website templates that you can use. And since we have never released these templates outside of our Control Panel, only our customers can take advantage of them. The templates themselves are carefully created to fit all kinds of websites – from personal blogs and portfolio sites to online stores and image galleries. We are constantly working on new themes as well.
24/7 Technical Support
Our tech experts are at your disposal 24/7
Our support staff consists of seasoned engineers who have worked many years in the web hosting business. They are trained to handle all kinds of problems and are available 24/7, ready to assist you. On top of that, we also have a detailed F.A.Q. library and many video tutorials.
Plus, we offer a 1-hour response time guarantee, which means that you will get an answer to your question as soon as possible. And the average response time is under 20 minutes.
How is this all under $100?
When you purchase a domain + hosting (as low as $45/year for a .com) you get the FREE Website Installer!